...which is hard for me because I am a defense kind of guy.
53 man roster below. Note, I REALLY do not like Cook. But I can see the coaches blowing 1 more year on the scrub (see 'Nasty Nate'). I hope Robinson is the hands down better player.
FA, same as last year. A body in every roster slot, not necessarily a good one. Try to free up the draft a little. I am a big fan of doubling down on an issue in order to resolve it. I chose to fix RB and WR.
1
Kenny Vaccaro
S 6'0½" 218
Texas
– in my opinion, the best Safety in the class. Great leadership skills and smart enough to run the DBs on D.
2a
Ed Lacy
* RB 5'10" 220
Alabama
– in my opinion, the best non-injured RB capable of playing on all 3 downs. He would be the 1A RB; moving BJGE down the chart.
2b
Justin Hunter
* WR 6'4" 205
Tennessee
– I have been a fan of MLJ since before last year's draft. I was not originally a fan of Sanu, but like what he has to offer as a possession guy out of the slot. MLJ becomes the #4 receiver and takes over KR. Receiving problem mostly solved. See below.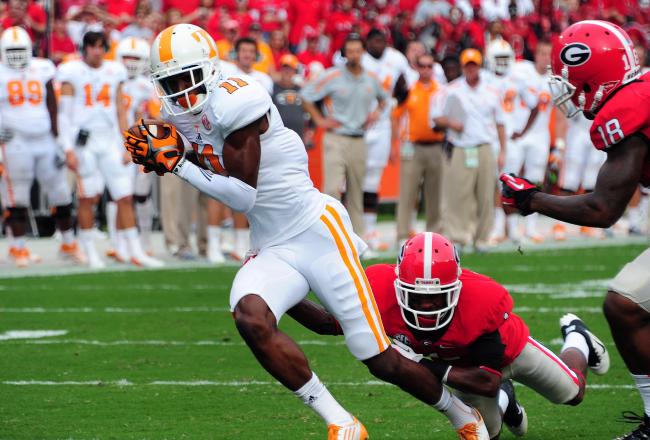 3
Jamie Collins
OLB 6'3⅜" 238
Southern Miss
– productive LB in the tweener mold that Marvin seems to favor.
4
Xavier Nixon
OT 6'5" 314
Florida
– a lot of upside with a history of injuries. Displaces Roland immediately.
5
Kenjon Barner
RB 5'11" 192
Oregon
– speed kills. New change of pace back and punt returner alternate with Adam.
6a
Michael Williams
TE 6'6" 270
Alabama
– the blocking TE with good hands that they have been looking for.
6b
Marcus Davis
WR 6'3⅛" 229
Virginia Tech
– the most unique combo of size, quickness and speed at the position. If he can add productivity to the list, he is the steal of the draft. He provides the possession depth that was missing when Sanu went down.
53 Man Roster:
QB (2)
Dalton, Andy
Gradkowski, Bruce
RB (4)
Ed Lacy *
Green-Ellis, BenJarvus
Kenjon Barner
Peerman, Cedric
FB (1)
Pressley, Chris
WR (6)
Green, A.J.
Justin Hunter *
Sanu, Mohamed
Jones, Marvin
Hawkins, Andrew
Marcus Davis
TE (3)
Gresham, Jermaine
Charles, Orson
Michael Williams
OT (4)
Whitworth, Andrew
Smith, Andre
Xavier Nixon
Collins, Anthony
OG (4)
Boling, Clint
Zeitler, Kevin
Robinson, Trevor
Wharton, Travelle
C (1)
Cook, Kyle
LS (1)
Harris, Clark
P (1)
Huber, Kevin
K (1)
Nugent, Mike
DE (4)
Dunlap, Carlos
Johnson, Michael
Gilberry, Wallace
Geathers, Robert
DT (4)
Atkins, Geno
Peko, Domata
Still, Devon
Thompson, Brandon
LB (7)
Burfict, Vontaze
Jamie Collins
Howard, Thomas
Maybin, Aaron
Lamur, Emmanuel
Skuta, Dan
Lawson, Manny
CB (6)
Hall, Leon
Jones, Adam
Kirkpatrick, Dre
Ghee, Brandon
Newman, Terence
Prater, Shaun
S (4)
Kenny Vaccaro
Nelson, Reggie
Mays, Taylor
Iloka, George